These connections are applicable directly to the system, but adapters can also be installed to make different pipework systems suitable for these types of connectors.
Tri-Clamp fittings are ideal for short term process lines and equipment. These types of fittings are often seen in pharmaceutical and chemical plants.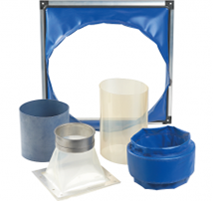 Flexible connections are available in many shapes, sizes and materials. We make a difference in hose clamp fitted connections and flange fitted connections.
Due to their special design and high quality flexible material, weighing bellows are used as a connection for weighing applications and dosing equipment. 
Hoses can be used as maintenance solutions or as special flexible connections that are longer in length. There are endless variations possible.
Innovative seals serve a specific purpose, not necessarily connecting machine parts together, but also to seal of filling stations or productions facilities.
Specialist for flexible connections in the following branches









The benefits of Filcoflex
Filcoflex stands for innovative solutions as a result of 30 years of knowledge and experience.
We have many references in the foodstuffs sector in Europe. Filcoflex has also been operating outside of Europe for several years and has many overseas references.
International certified
Custom solutions
Inhouse R&D
Cleanroom production
DISCOVER MORE