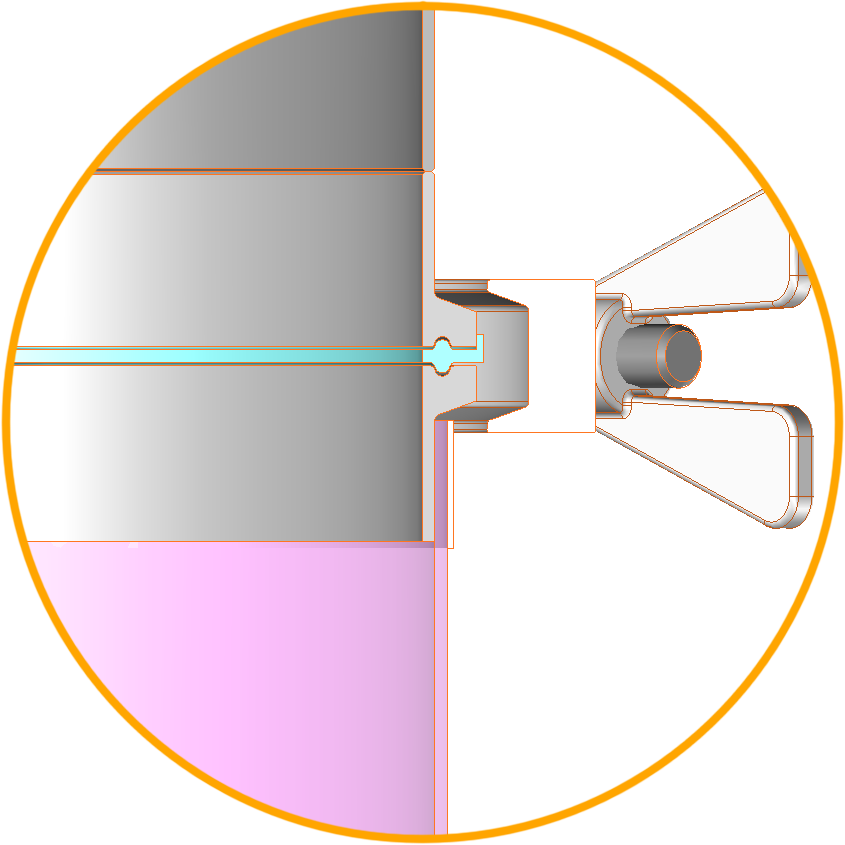 Features
Easy Connection
Hygienic Connections
Tri-clamp Coupling many standards
Robust
Air Tight
Leak proof
Large variety of flexible materials
Standard AISI 316L / DIN 1.4404
Many sizes
Custom made
Replaceable gasket (see accessories)
Modular system (see accessories)
LFR is a flexible connection equipped with a pressed on Tri-clamp coupling.
Pressing stainless steel AISI 316L / DIN 1.4404 ferrules on to the flexible connection / flexible sleeve makes the entire connection airtight and gives it a smooth flow profile. The Tri-clamp coupling is assembled in the same way as originally intended, with a replaceable gasket and a Tri-Clamp for quick assembly.
LFR can be used with a 2 bolt clamp or hinged clamp, with wing nuts, hexagon nuts, tool release or lock nuts for employee safety in case of dangerous applications, for example when the Flexible connections is close to a rotary valve, screw conveyor, butterfly valve, mill or other mechanical equipment. The LFR flexible soft connections is a great addition to the already vast program of the modular Tri-clamp tubing system.
The design of the method: the flexible soft sleeve is pressed on to the Tri-clover Flanges, allowing us to make the flexible sleeve in a great variety of materials such as thermoplastics, rubbers and silicones. This can be done with a thicknesses of 0.3mm, 1.0mm, 2.0mm and even 3.0mm. The use of a Gasket ring on the flange, which is replaceable, allows you to choose from a wide range of gasket materials for a variety of applications, even multi material gaskets such as PTFE with a Viton inner ring. Pressing stainless steel tri-clamp flanges on to the flexible connection / flexible sleeve, makes the entire connection airtight and gives it a smooth flow profile.
There are many application options, including specific options for weighing and dosing techniques, Atex, foodstuffs, chemical , color and metal detection.
Magnets, sensors and switches
Also, the flanges pressed on to the flexible allows to weld brackets to mount electromagnets, sensors or proximity switches. This for the safety purpose to detect if there is a flexible mounted or for when the clamp is disassembled, electromagnets can keep the flexible in place to prevent leaks or to guard operators from mechanical moving parts that are dangerous. Machines can be switched of when the right electronic precautions are made. Also ground studs / earth studs can be added to the metal press rings on each end. Everything is customizable.
Variations
Conical,
Eccentric
Unparallel flange surfaces
With inner sleeve
Y piece / side branche / T piece
Bellow shape, symmetric and conical asymmetric
Reinforcement rings against vacuum and over pressure (also in grounded editions)
End cap or blind cover
Spiral shaped reinforcement
Many more
Dimensions
Ø40 – Ø315
Any standardized diameter possible or see below most sold diameters
Flange Length 28mm
Many Tri-clamp Standards;

DIN32676
ISO1127
BS4825pt3
ASME BPE 2004
Others

Available with other types of none triclamp connections;

DIN 11864
And many others

Length is minimum 100mm, there is no maximum length
Materials
For more information please go to our Materials Comparison Table.
Poly Urethane (0.3mm / 1.0mm / 1.5mm)
PKPU Poly Urethane with knitted polyester ply (0mm)
Silicones (0mm / 3.0mm)
PKSR Polyester Knitted Fabric with Silicone (0mm)
EPDM, Gum, Nitrile (0mm / 3.0mm)
PVC, Mipolan (0mm / 3.0mm)
Silicone Weighing Bellows
Poly Urethane weighing bellows
Step Bellows
| | |
| --- | --- |
| Parameter | Explanation |
| TC OD A | Triclamp Flange Outside |
| OD A | Tube Outside Diameters |
| ID A | Inside Diameter |
| WF A | Welding Flange Length |
| AL | AdapterFlange Length |
| CT | Counter Flange Thickness |
| FL | Length Flexible Sleeve |
| CL | Length Flexible Connector |
| BIHA | Length Between Tubes / Flanges |
| MAX | Maximum Available Build in Height |
| DT | Counter Flange Thickness |
| BL | Adapter Flange Length |
| WF B | Welding Flange Length |
| ID B | Inside Diameter |
| OD B | Tube Outside Diameter |
| TC OD B | Triclamp Flange Outside |