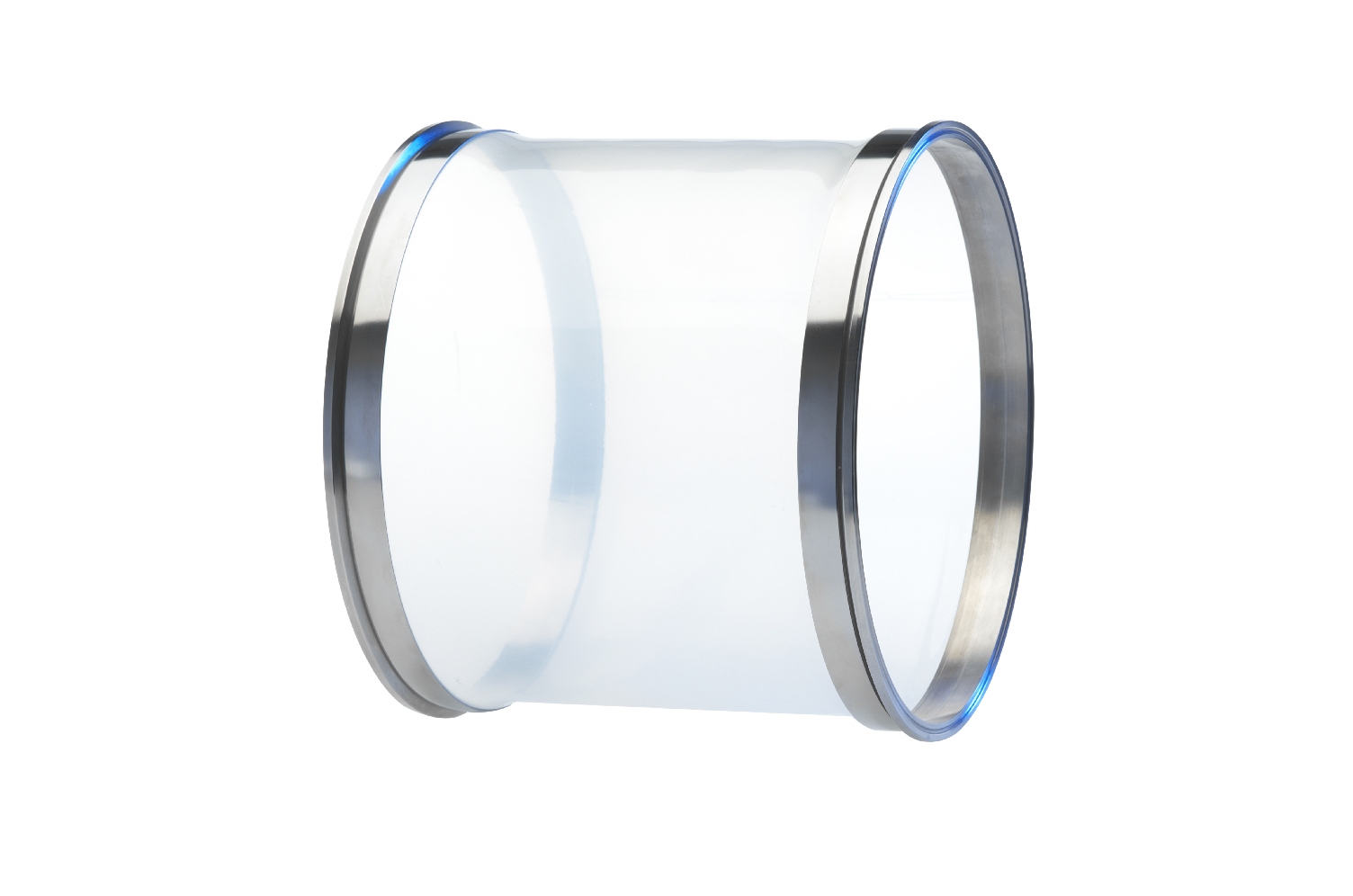 About
Product information
LFR is a flexible connection equipped with a pressed on Tri-clamp coupling. Pressing stainless steel 316(1.4571) ferrules onto the flexible connection makes the entire connection airtight and gives it a smooth flow profile.
There are many application options, including specific options for weighing and dosing techniques, Atex, foodstuffs, chemical and detection.
The Tri-Clamp coupling is extremely simple to fit. Pressure-resistance and the correct assembly are guaranteed with the use of robust Tri-Clamps. This connection uses a seal which is available in many different materials. There is a possibility to supply tool release clamp rings.
Triclamp Standards
DIN 32676 (standard)

ISO 1127 (standard)

BS4825 pt3 (standard)

ASME BPE 2004

ASME BPE 2005

DIN 11851

DIN 11853

DIN 11864
see 'downloads' for more detailed information.
Sizes
Diameters
Ø60mm minimum – Ø315,9mm standard

Ø315,9mm -Ø500mm maximum are exclusively available upon request
Lengths
The pressed flanges are 21 to 28 mm high depending on the standard. This means that the minimum recommended length is 100mm. There is no maximum length.
Materials
The flanges are available in:
Stainless steel AISI 316 L / DIN 1.4404, Ra0,8 (standard)

Stainless steel AISI 316 L / DIN 1.4404, Ra0,4

Stainless steel AISI 304    / DIN 1.4301, Ra0,8

Hastelloy
The sleeve can be produced in the following materials:
| | | | | | |
| --- | --- | --- | --- | --- | --- |
| Name | Description | Color | Thickness | Temperature range | Certification |
| PU-UF03 | Polyurethane | Transparent | 0,3 mm | -40 to +90 | FDA / ECC |
| PU-UF1 | Polyurethane | Transparent | 1 mm | -40 to +90 | FDA / ECC |
| PU-UF3 | Polyurethane | Transparent/Milky White | 1 mm | -40 to +90 | FDA / ECC |
| PU-UF15 | Polyurethane | Transparent | 1,5 mm | -40 to +90 | FDA / ECC |
| SIL 2 | Silicone | Translucent | 2 mm | -60 to +200 | FDA / ECC |
| SIL 3 | Silicone | Translucent | 3 mm | -60 to +200 | FDA / ECC |
| SIL BLUE | Silicone Metal Detectable | Blue | 3 mm | -60 to +200 | FDA / ECC |
| PKSR | Silicone with Polyester Knitted Ply | Translucent/White | 2 mm | -30 to +160 | FDA / ECC |
| PTFE 2109 | PTFE Cross laminated film | White | 0,22 mm | +300 | FDA / ECC |
| PTFE 2109 | PTFE Cross laminated film | White | 0,22 mm | +300 | FDA / ECC |
| PTFE 2112 Antistatic | PTFE Cross laminated film | Black | 0,3 mm | +300 | FDA / ECC |
| PTFE 2120 Antistatic | PTFE Cross laminated film | Black | 0,5 mm | +300 | FDA / ECC |
| PTFE 2112 TR | PTFE Cross laminated film | Translucent | 0,3 mm | +300 | FDA / ECC |
| PTFE 2120 TR | PTFE Cross laminated film | Translucent | 0,5 mm | +300 | FDA / ECC |
| EPDM W | EPDM White FDA | White | 2 / 3 mm | -30 to +100 | FDA / ECC |
| EPDM AS | EPDM Antistatic | Black | 2 / 3 mm | -30 to +100 | FDA |
| GUM | Natural Gum Rubber | White / Beige | 2 / 3mm | -30 to +80 | FDA / ECC |
| WEA | Wear Flex | White or Black | 2 / 3 mm | -30 to +80 | N/A |
Downloads
Benefits
Years of knowledge and experience
Different agencies worldwide
Custom solutions possible
12 branches we help with our products