Features
100% sealed – no leaks
Easy to install
Quick to fit & remove bags
Strong and Durable
No pinching points
No loose parts
Inflates in seconds
Deflates in seconds
Fully Customizable
For all sizes of Bulk Bags and bulk containers
Fits every existing equipment
No changes needed to existing equipment
1 on 1 replacement for existing inflatable seals
For imperial and metric tubing
Available with many types of connections
Advantages
No changes required to the filling head, chute or tube
Interchangeable with existing inflatable seals and clamps
Available with and without clamps, quick connection or even can be used without any connection.
Inflates in seconds and provides a tight seal on the neck / spout of the bulk bag eliminating product leaks.
Much safer for workers hands as there are no pinch points
Can be used on bulk bags with or without plastic liners, bins or containers.
Easy to detach in only seconds for easy cleaning
Fully custom made diameter and length with short lead time
Hygienic Poly Urethane material
Explosion safety
Food contact safety according to all big international regulations
No parts that can loosen and be lost in the machinery or bulk container or bag
Filcoflex Poly Urethane is non porous and easy to clean
Filcoflex Poly Urethane does not degrade
Can be used to fill or empty all sorts of bulk containers such as:
Big Bag
Plastic bag
Paper bag
Super sack
FIBC
Bin
Vessel
Drum
Bags and bins with or without liners
Bulk packaging
Pneumatic Bulk Bag Seal – Over Tube (PBS – OT)
PBS-OT is an Inflatable Seal that slides over a filling head, chute or tube of any Bulk filling or emptying station for all sorts of Big Bags, containers and bins.
The name PBS OT stands for Pneumatic Bulk Bag Seal – Over Tube. Over Tube meaning this version slides over the existing chute, filling head or tube without making any changes to the metal works, no special ferule or flange is required. PBS-OT is an inflatable bag clamp interchangeable with existing rubber or silicone inflatable seals improving the hygiene and durability without making any changes to existing equipment.
PBS-OT is made to any custom diameter or length with a short delivery time
Poly Urethane is a more hygienic material because it does not deteriorate, crack and does not turn brittle. The surface of Poly Urethane on both sides is gloss and non-porous, making it easy to clean. Poly Urethane has been tested safe to use for repetitive contact with foods with the most common international food contact regulations.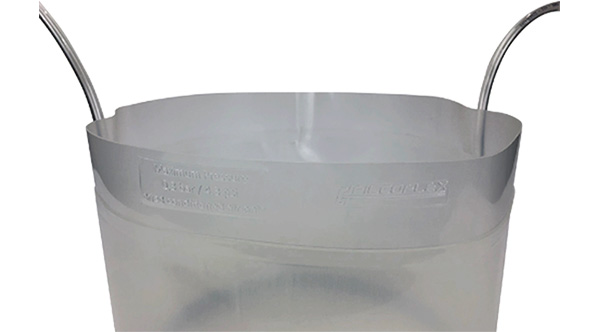 K
Sealed in 9mm Hose Clamp
Q
Quick fit lips with holes
QA
Quick fit lips with holes and tabs
Construction of the product
PBS-OT is 100% sealed bladder made out of Poly Urethane film of 1.0mm thickness. The Bladder can be inflated through the welded in TPU Ø8×5,5mm air hoses. When it is inflated it clamps the Bulk Bag firmly and seals the opening of the bag preventing any dust or powder leakage. PBS-OT slides over any existing tube or filling head without having to weld any special adapter or ferules. PBS-OT stays in place with or without any additional connecting accessories.
Tube / Chute / Filling Head.
Inflatable Bulk Bag Seal. Pneumatic Bag Seal.
Bulk Bag.
When inflated the outer Poly Urethane Bladder will securely hold the bag neck up and open for clean, efficient filling.
There are no pinch points to endanger operator's hands when fitting the bag.
Can be used with or without plastic liners.
Connecting method
PBS-OT is fitted by being mounted on the outside of the tube or filling head. When the inflatable seal is pressurized it shortens and expands more than a laminated multi-layer inflatable seal.
The installation of the Inflatable Bag clamp over the tube or filling head takes mere seconds. Sliding the Big Bag over the inflatable bladder also requires only seconds.
Pneumatic Connection and operation
PBS-QD is built with welded in compressed air lines, made of poly urethane hoses. The hoses are completely airtight welded in to the upper rim of the Poly Urethane inflatable bladder. The 8×5.5mm PU air hose is suitable to use with any standard 8mm push in air fitting, allowing it to attached and detach within seconds.
The hoses are welded up straight to stay clear from the bulk bag. The inflatable bladder is 100% free of any obstructions, sharp edges or pneumatic fittings. The full bladder length can be used to clamp the bulk bag or container. Because there are no obstructions or fitting in the inflatable bladder, more bladder surface can be used making it easier to position or align Bulk bags or containers without losing time.
The 3D HF welding technique used to weld the hoses in the Inflatable clamp ensures a 100% seal. Each weld is tested before the Pneumatic Bulk Bag Seal is shipped out.
Threaded fittings create possible entry points in to the bladder. This can be classified as a hygiene risk.
By welding the hoses in the upper rim instead of using threaded fittings in the outside sleeve, The entire inflatable bladder surface is free of any sharp object.
Threaded parts can loosen and because of this parts can be lost in the machinery or bulk container or bag. Threaded fittings can start to leak, and can't be tied down because 1 side is not accessible to hold while tightening down.
PBS-OT as a standard comes with 2 hoses, divided over 180° from each other. The quantity of hoses can be anywhere between 1 and 6 pcs. The number of hoses has an effect on the speed of inflating and deflating.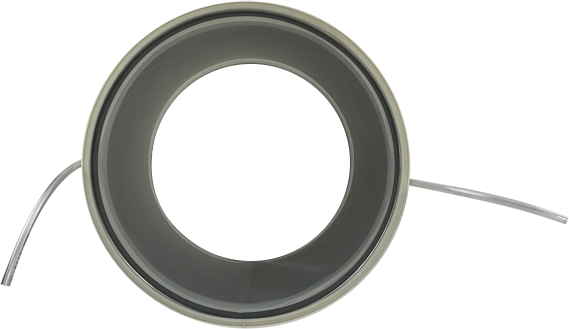 The distance between the hoses can be evenly spaced around the full 360° circumference. The hoses can also be orientated together on one side.
The Polyether Urethane hoses can be easily cut to length. The standard length is 175mm. Simply use a pair of Multipurpose Miter Shears for the best and easiest cut.
Operator safety
There are no pinch points no sharp edges or metal objects in the clamping area that endanger the hands or fingers of operators. Safety instructions can be embossed in the PU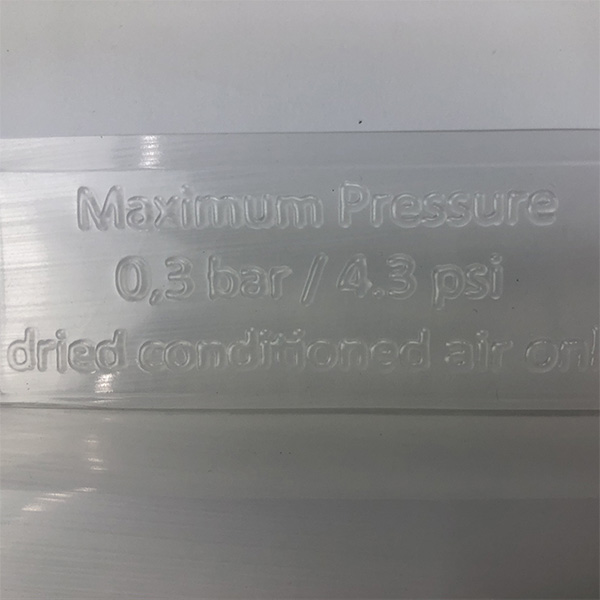 Air pressure / Compressed Air
The ideal compressed air line operating pressure is recommended to 0,3 Bar / 4.3 PSI.
If a higher pressure is required to reach a larger inflated diameter. Please first contact Filcoflex for advise. The absolute recommended maximum pressure is 0.41 Bar / 6 PSI but this does not apply to larger diameters or lengths
If air pressure recommendations are exceeded this may cause permanent damage to the inflatable bladder. Even though a higher pressure can be held in without any immediate burst, it is recommended to not to exceed the maximum pressure recommendations.
A hand operated button or switch as well as a food pedal can be used to operate the inflation of the seal. Filcoflex offers a full kit with a hand button.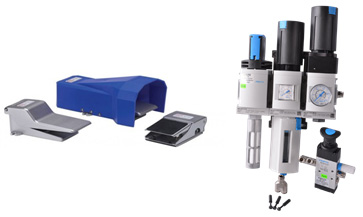 Connection Styles and Dimensions
Filcoflex offers 5 different styles to connect the Inflatable Bulk Bag seal to the bulk filling or emptying equipment.
R
30mm Straight End Sleeve end
Can be fitted with or without hose clamp
Length: 100 – 350mm
Total length: – 40mm is Bladder Length
Smallest Diameter: Ø 100mm
Largest Diameter: unlimited
K
Sealed In 9mm hose clamp
9mm stainless steel screw clip
Length: 100 – 350mm
Total length: – 30mm is Bladder Length
Smallest Diameter: Ø 100mm
Largest Diameter: unlimited
Q
Lips for quick fixing to the tube
Weld studs on the tube or filling head Ø8-Ø10mm
The lips with holes can slide over the studs
Length: 100 – 350mm
Total length: – 40mm is Bladder Length
Smallest Diameter: Ø 100mm
Largest Diameter: unlimited
QA
Double Lips for quick fixing to the tube
Weld studs on the tube or filling head Ø8-Ø10mm
The lips with holes can slide over the studs
Length: 100 – 350mm
Total length: – 40mm is Bladder Length
Smallest Diameter: Ø 100mm
Largest Diameter: unlimited
| | |
| --- | --- |
| Parameter | Explanation |
| L | total Length of the inflatable seal |
| R | Length of the upper Rim |
| BL | inflatable Bladder Length |
| BIHA | Maximum length available to fit an Inflatable Bulk Bag Seal |
| ID | Inside Diameter of the seal / Outside diameter of the tube |
| OD – deflated | Outside Diameter when deflated |
| Max Inflated OD | Maximum Inflated Outside Diameter / Bulk Bag (spout) Diameter |
Dimensions
Pressure
ID
Bladder Length (BL)
OD deflated
0,3 Bar / 4,35 PSI
0,41 Bar / 6PSI
104
90
108
104
140
108
104
190
108
154
90
158
154
140
158
154
190
158
204
90
208
204
140
208
239
261
204
190
208
254
90
258
300
305
254
140
258
310
320
254
190
258
312
335
254
240
258
315
377
273
190
277
340
368
304
90
308
360
370
304
140
308
371
393
304
190
308
386
423
304
240
308
387
456
304
290
308
408
509
354
140
358
435
460
354
190
358
454
490
404
90
408
477
485
404
140
408
505
520
404
190
408
530
558
454
90
458
519
535
454
140
458
555
570
454
190
458
580
600
The list of sizes will keep expanding with every new size that is manufactured. If your required size is not listed yet, please send us the requirement and we will be happy to test it for you
Every pneumatic bulk bag seal is custom made to the required filling head / chute diameter and length, calculated to be right size for each diameter Bulk Bag that is used in your filling process. All custom made products have a short delivery time.