Advantages
Superior flexibility
Excellent shape memory properties
High tear strength
good fatigue resistance, flex resistance, and elongation
Translucent
Superior chemical resistance
Good
CIP cleaning resistant
Great aging resistance
High Temperature resistance
Great low temperature resistance.
Smooth surface
No material degradation
Food contact compliant

FDA 21 CFR 177.2600
EC 1935/2004
BFR XV part B 11

Excellent resistance to:

Ozone, Oxidation, ultraviolet light, corona discharge, cosmic radiation, ionizing radiation, and weathering in general.
PKSR – Silicone Rubber with Polyester Knitted mesh ply
PKSR is an enhanced material specially for flexible sleeves. A 2mm solid silicone sheet material with a polyester knitted open mesh reinforcement ply encapsulated in the center to increase the tear strength of the silicone sheet material to manufacture silicone flexibles and silicone sleeves.
By using a polyester knitted open mesh the silicone forms a solid unity and can there for not delaminate from the polyester ply. This extends the durability of the silicone material to be used as a silicone sleeve or silicone flexible in vibrating and large amplitude vibrating equipment.
A polyester knitted mesh provides a much better flexibility than a woven fabric, which is ideal for silicone flexible sleeves. PKSR is still translucent due to the open mesh structure, allowing to see through the silicone sleeve or silicone flexible to see if there is an active product flow inside the equipment, ducting or tubing.
Filcoflex offers a wide range of flexible sleeves in translucent silicone. A Silicone flexible sleeve can be made in various thicknesses. Standard silicone sleeves are made in either a seamless silicone rubber tube, or from a silicone sheet material which is formed into a silicone sleeve or a silicone flexible.
Silicone rubber is a semi-organic synthetic made from sand and alkyl or aryl halides. While silicone rubber looks and feels like organic rubber, it has a completely different type of structure than other elastomers. Silicone rubber consists of a chain of silicon and oxygen atoms rather than carbon and hydrogen atoms as found in other types of rubber. This structure gives silicone rubber a very flexible but weak chain. Silicone's structure also provides a material that has very small change in dynamic characteristics over a wide range of temperature.
Applications
Food and beverage, outdoor applications, Stationary, Vibratory, Gyratory, Sifters, Screeners, Feeders, Spray driers, Fluid Bed, Static Cool Bed, Bin dischargers, Hoppers, Conveyors, Packing equipment, Storage silos, Screw conveyors, Valves, butterfly valves, Rotary valves, Tanks, Silo's, any sort of product handling equipment, Air ducting, Fans, Inflatable seals, Covers, Outside protection sleeves, Bellows, Load cell (high volume, weight and capacity), Harmonica's, Telescopic applications.
General properties
Name
PKSR
Description
Polyester Knitted mesh Silicone Rubber
Color
Translucent / White
Surface
Smooth on both sides
Surface Roughness
–
Wall Thickness
2,00 mm / 0.0787 Inch (+/-10%)
Hardness
60° Shore A (+/-5%)
Tensile Strength
5 MPa (BS ISO 37)
Maximum Elongation
261% (BS ISO 37)
Operating Temperature
-60 °C to 160°C
-76 °F to +320 °F
Max. Surge Temp
+180 °C / +356 °F
Brittle Point
-80 °C / -112 °F (ASTM D764)
Low Temperature Flexibility
Very Good
Air Permeability
0
Limiting Oxygen Index
24.0% (BS 2782 Part 1)
Thermal Conductivity
0.24 W.m-1. K-1 (VDE 0304)
Radiation Resistance
105 Grays (107 Rads) typical
Dielectric Strength
23 kV.mm-1 (VDE 0303)
Dielectric Constant
2.9 (VDE 0303)
Dissipation Factor
3×10-4 (VDE 0303)
Volume Resistivity
3×1015 Ω.cm (VDE 0303)
Type of Material
Sheet on roll 1000x15000mm
Advantages
Silicone has a broad temperature range and is generally odorless / non-toxic.
Silicone offers excellent resistance to high temperatures, ozone, oxygen, UV light, moisture, and fungus.
Silicone also has excellent vibration damping and maintains its dielectric strength.
Silicone has low compression set and offers good fatigue resistance, flex resistance, and elongation.
Silicone offers excellent resistance to Corona discharge, Cosmic radiation, Ionizing radiation, and weathering in general.
Silicone has an excellent resistance to CIP cleaning and Cleaning Chemicals.
Limitations
Standard Silicone has poor tensile, tear and abrasion resistance.
PKSR has been enhanced with an open polyester mesh ply to improve the tear strength with 200%.
Silicone has poor resistance to most concentrated solvents, concentrated acids, concentrated alkaline, oils, fuels, hydrocarbons, and steam.
Silicone may become porous to high concentration fatty substance such as coffee oil at higher temperature applications (above 70° C/158° F).
Chemical Resistance
For a detailed chemical resistance, we advise you to please see our chemical compatibility chart.
Pressure Resistance for Flexible Connectors
0,34 Bar / 5.0 PSI For temperatures up to 90 °C / 195°F. Please see "Operating Pressure Guide" for further information. We recommend using the shortest possible connector for applications where increased pressure and/or high temperature is expected. Please contact us for more information.
Weighing Applications
High volume weight and capacity weighing, and dosing applications please see "weighing and dosing guide" for further information.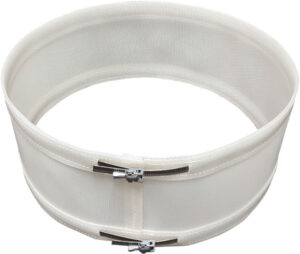 ATEX & Explosion Safety
PKSR has been tested for its electrostatic properties and has been found safe to use in all dust, powder, and air mixture explosion hazardous areas, such as ATEX zones 20, 21, 22, within the written restrictions to length, airspeed and minimum ignition energy of the powder / dust mixture passing through.
Please read our full testing reports and statement to determine of PKSR is safe to use in your explosion hazardous environment. Please contact us for further information.
Surface Resistance: 1,9 x 109 Ω IEC 60093/EN1149 and TRBS 2135
Volume Resistance: 1 x 1013 Ω IEC 60093/EN1149-1
Classified as Non-Conductive.
The material PKSR 2 mm Silicone with Polyester knitted inner Ply can be safely used in relation to static hazards for flexibles up to a maximum length of 1000 mm for all situations containing dust-air mixtures with minimum ignition energies larger than 1000 mJ.
In cases of low transport rates (product transport velocity less than 2 m/s) PKSR can be used for flexibles up to a maximum length of 1000 mm for dust-air mixtures with minimum ignition energies larger than 10 mJ.
In case of short flexibles (less than 100 mm) PKSR can be safely used inside dust for all situations containing dust-air mixtures with minimum ignition energies larger than1 mJ.
PKSR shall never be used in case of flammable gases and vapors, hybrid flammable gas/vapour/dust-air mixtures and in case of dusts with minimum ignitions energies less than 1 mJ. The minimum ignition energy values referring to in this report shall be determined following DIN EN 13821, IEC 61241-2-3 and without induction in the circuit.
The temperature influence of the on the minimum ignition energy shall be considered.
Food Contact Compliancy
PKSR complies with the following regulations for repetitive contact with foods:*
* Some restrictions may apply, a copy of all certifications can be downloaded, or will be sent to you upon request. We will be happy to advise further if you have any questions.
** Please check our food contact compliancy declarations and migration testing reports for further information.
Production Methods used
Joining / Bonding:
Glued/Bonded
802612 – Kit_Siliconen lijm E43 N RTV-1
(Specifications available uppon request)
Cutting:
Stainless Steel knives
Water Jet cutting