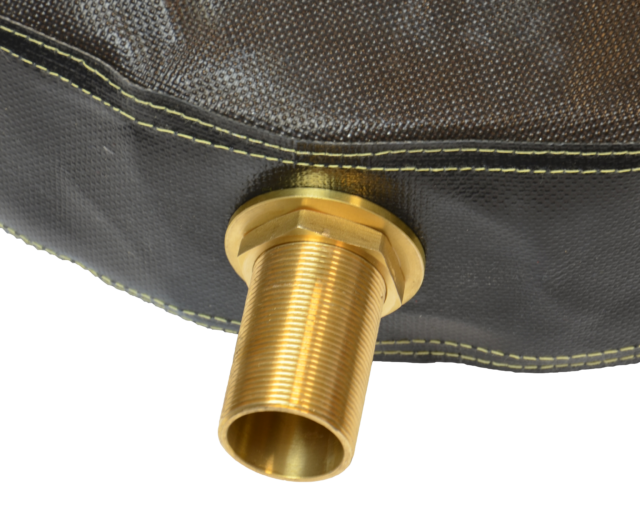 About
Spray Shields are applicable where liquids are transported through pipes. When pipes, pipelines and valves are used to transport gases and liquids, gaskets are used to seal flange connections. Spray shields are covers that are applied around the flanges of pipelines to protect the environment and the installation or for faster detection of leaks using so-called indicative material.
Leaks in pipes are life-threatening and can easily arise due to the prevailing pressure, vibration, wear and / or chemical degradation. Sealing a leak is a costly investment and in addition, leaks can cause injury to people or damage to installations when a so called spray out occurs; when the leak is big enough and the fluids spray out into the surrounding environment due to high pressure in the installation, causing a worst case scenario safety hazard.
Spray shields can be the solution to improve health & safety in industries where chemical solvents are being processed and where extreme temperatures occur in the installation. They are used in chemical plants, oil refineries, paper mills, food processing plants, steel mills, pharmaceutical plants, and power generating plants worldwide.
There are two types of spray shields:
Chemically resistant and indicative

High and low temperature resistant
Chemically resistant & Indicative
By using a material that reacts with chemical solvents these indicative spray shields act as indicators of leakage occurring in flange connections. This way even the smallest leakage can be detected at an early stage, preventing damage to persons and equipment. The discolouration is visible from the outside, allowing detection without the need for the shields to be opened.
As an added benefit the shields also prevent a spray out.
The indicative material has a chemical resistance and is available in various colours that become translucent when coming into contact with all sorts of chemicals, acids and alkaline solutions.
Fields of applications could be chemical plants, but also food & pharma, where CIP cleaning is often used to sanitise installations, using acids and alkaline solutions like nitric acid and sodium hydroxide which can cause serious harm to people and objects.
High & Low Temperature
In addition to the indicative flange protector for liquids, there are also extremes of high and low temperatures. These designs are not indicative, but only to protect the environment from the high-speed product and for the collection of small quantities of products.
These heat- or cold-resistant spray shields prevent damage to your installations or equipment. Also, these covers help protect personnel and the environment from the disastrous consequences that can cause a leak.
The demand for these types of shields can often be found in oil refineries, steel mills, paper mills and power generating plants.
Special design
It is also possible to produce spray shields with special features based on the data provided by the customer. Specific features could be materials that can withstand specific chemicals, certain temperatures or special conditions. This also allows for varying sizes and shapes with short delivery times.
Filcoflex spray shields are not only made according to DIN and ASA standards, but also according to your specifications so that all your pipes can be provided with the necessary protection. The assembly takes place by tightening and clamping a corded cord, which is also resistant to higher temperatures in addition to chemicals.
Benefits
Years of knowledge and experience
Different agencies worldwide
Custom solutions possible
12 branches we help with our products