Advantages
Great solvent resistance. Good resistance to weather aging, oxygen, ozone, UV exposure, sunlight, water, steam and heat.
EPDM has an outstanding chemical resistance to dilute acids, polar materials such as phosphate ester base hydraulic fluids, oxygenated solvents (acetone, methyl, ethyl ketone, and other ketones.), alcohol. animal and vegetable oils, alkalis and compression set.
EPDM's dynamic and mechanical properties are, in general, between natural rubber and SBR.
Limitations
Poor resistance to petroleum oils, fluids, or solvents because significant swelling would result.
Poor resistance to aromatic hydrocarbons (e.g., benzol, toloul) and aliphatic hydrocarbons (e.g., kerosene, turpentine).
EPDM White FDA 60° Shore A
There are two basic types of EP rubber available in today's market—EP and EPDM. EP is a copolymer of ethylene and propylene, while EPDM is a terpolymer combining ethylene, propylene and a diene monomer. EP uses a peroxide cure system. EPDM uses a sulphur cure system.
Filcoflex B.V.'s EPDM is an EPDM white FDA 60° Shore A is a rubber material sheet from rolls. EPDM is used for a number of purposes, to cut custom gaskets and to make flexible sleeves among other things.
The sheet is a roll material, the roll are 1200mm wide and have 10 meter length.
EPDM has a good solvent, acid and alkali resistance, and a good general chemical resistance. EPDM has a higher temperature resistance than most plastics (e.g. Poly Urethane) or natural rubbers.
General properties
Name
EPDM White FDA
Description code
EPDMw1 / EPDMw2 / EPDMw3 / EPDMw5
Material
Ethylene Propylene Diene Monomer rubber
Color
White
Hardness
60 ° Shore A (+/- 5° Shore tolerance)
Tear Resistance

25 N/mm  DIN 53507
Tensile Strength
11,0 MPa  ASTM D412 C
Specific Weight

1,16 g/cm3
Maximum Elongation
550%  DIN 53504
Post Curing of sheet material

Sulfur cured
Operating Temperature
-25 °C to 100 °C
-13 °F to 212 °F
Air Permeability
0
Type of Material
Sheet on roll, 1200mm (+/- 20mm) x 10000mm
Pressure Resistance for Flexible Connectors
0,34 Bar / 5.0 PSI For temperatures up to 90 °C / 195°F. Please see "Operating Pressure Guide" for further information. We recommend using the shortest possible connector for applications where increased pressure and/or high temperature is expected. Please contact us for more information.
Weighing Applications
High volume weight and capacity weighing and dosing applications please see "weighing and dosing guide" for further information.
Chemical Resistance
Good temperature resistance
Good ozone resistance
Very good acid resistance
Very good alkali resistance
Good CIP resistance
Good weather resistance
Poor oil resistance
Poor petrol resistance
Food Contact Compliancy
Filcoflex B.V. hereby declares that below mentioned list (1) of EPDM rubbers comply with the following regulations (2) for repetitive contact with food and foodstuffs.
EPDM rubbers (1)
EPDM White FDA 1mm
EPDM White FDA 2mm
EPDM White FDA 3mm
EPDM White FDA 5mm
EPDM White FDA 6mm
List of regulations to which the product complies (2)
FDA 21 CFR of the United States of America
European Union

(EC) 1935/2004
(EC) 2023-2006
Free of substances
None of the following chemicals is intentionally added to EPDM White FDA, and are therefore suspected to not be present in the material.
Production Methods used
Joining / Bonding:
All seams are overlapped seams, the ends are made thinner before they are overlapped. The overlap seam has a thickness within that has a +1mm -0.5mm tolerance compared to the original material thickness.
*seams are grinded before they are glued for a better adhesion.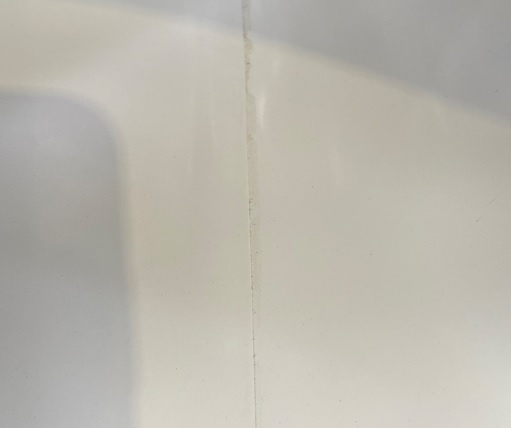 Cutting:
Stainless Steel knives
Water Jet
Availability for shapes, couplings and product features
EPDM White FDA can be custom made in to flexible sleeves and number other products.
This document summarizes all the different shapes, end couplings and product features that are available for this flexible material.
Please find detailed explanations on the information pages about these subjects:
product features & options
shapes & forms
coupling ends
Related Filcoflex Product Shapes & Forms
Rectangular – Rectangular
000 / 001 / 002 / 003 / 004
Rectangular – Round
051 / 052 / 053 / 054
Round – Round
550 / 551 / 552 / 553 / 554
Oval – Oval
660 / 661 / 662 / 663 / 664
Round – Oval
651 / 652 / 653 / 654
Related Filcoflex Product Coupling Ends
Hoses
Rubber Hose On Roll (HOR)
Up to 2000mm long
Seals, Gaskets and Covers
Cut sheets and patterns
Gasket cut from sheet
Related Filcoflex Product Options
Integrated Reinforcement rings
To withstand vacuum collapse or over pressure expansion.
Stainless Steel, 3mm / 5mm / 8mm (VR)
PE 6x10mm poly ethylene (VRPE)
Stainless Steel T bar 20x25x3 (VRT)
Padding on Flange or Cuff
Label
Printed label encased in Poly Urethane pocket.
3 optional colors (yellow/blue/white)
Stitched on to the end of the EPDM product
RFID chip encased in Poly Urethane pocket
Stitched on to the end of the EPDM product